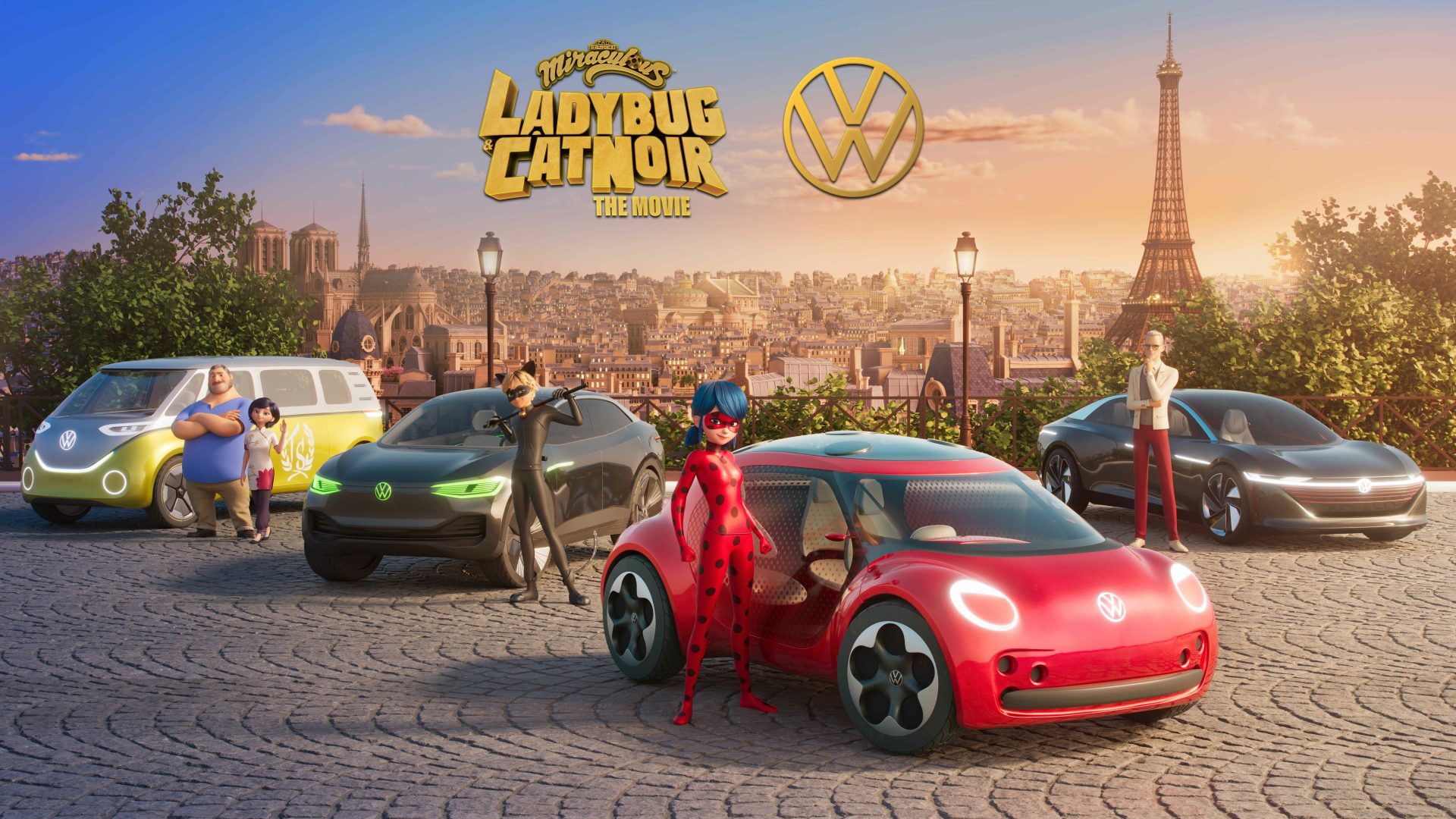 Volkswagen is invigorating its brand identity and bolstering its global electric strategy, in partnership with ZAG and Mediawan Kids & Family, the co-producers of the forthcoming animated family film, "Miraculous: Ladybug & Cat Noir, The Movie." The company's Chief Marketing Officer, Nelly Kennedy, stated: "E-mobility is both cool and stimulating – the perfect synergy with the film's characters and narrative. We're elated that the film's well-loved characters will journey in various fully electric models from our Volkswagen ID. series."
Following the worldwide popularity of the "Miraculous" series in over 130 countries, the movie is set to be shown in more than 100 global markets. The series has amassed over 33 billion views on YouTube and topped TV ratings in many countries. The first-ever movie of the franchise will be released in theaters globally from July 5th, 2023, and will subsequently be available on the streaming platform Netflix, beginning July 28th, 2023.
In this blockbuster, electric vehicles will be organically woven into the plot, with ID series cars being adapted to align with the film's aesthetic. This will be done in close cooperation with the film's designers and the Volkswagen marketing team, including Gilbert Heise and Salim Yueksel. The ID.4 and an electric Beetle concept car will be designated to the protagonists, Cat Noir and Ladybug, a symbol of female empowerment. The luxury ID. Vizzon will belong to stylist Gabriel Agreste, and the Volkswagen ID. Buzz will serve as Tom's bakery delivery vehicle.
Volkswagen is known for its witty and humorous consumer communication, which is essential to its brand love. In the changing landscape of advertising, marketing, and consumer behavior, collaborations such as this one are vital. Volkswagen has previously partnered successfully with Marvel Studios for "Ant-Man and The Wasp: Quantumania", and Disney+ for limited Star Wars series like Obi-Wan-Kenobi, Andor, and "Mandalorian".
This partnership furthers Volkswagen's commitment to promoting electric mobility among broad family audiences. The company has been a frontrunner in transitioning to electric mobility since 2016, aiming to be climate-neutral by 2050. It plans to launch ten new all-electric models by 2026. The depiction of animated heroes embracing electric mobility aligns perfectly with the eco-friendly values of the Miraculous universe and Volkswagen's "Way to zero" strategy. Nelly Kennedy commented: "This collaboration will greatly enhance our brand and ID family's emotional appeal and will enable Volkswagen to introduce the ID. family in a relatable way to a wide family audience."
The shared values of the two brands have been the cornerstone of this collaboration. "Right from the outset of this extraordinary film adventure, the collaboration with Volkswagen seemed an obvious choice. Our brands share many common values. As producers, we also have the responsibility to communicate the values of a better world," said Aton Soumache and Emmanuel Jacomet, the film's producers. The director of the film, Jérémy Zag, echoed the sentiment: "With my creative team, we had a great time adapting Volkswagen's iconic vehicles to the Miraculous universe, ensuring they blend seamlessly with the film and the Parisian backdrop. Ladybug and Cat Noir symbolize the new generation, and the vehicles in the film epitomize that modernity. It's critical for me to impart an essential message: caring for our environment to ensure a better world tomorrow."