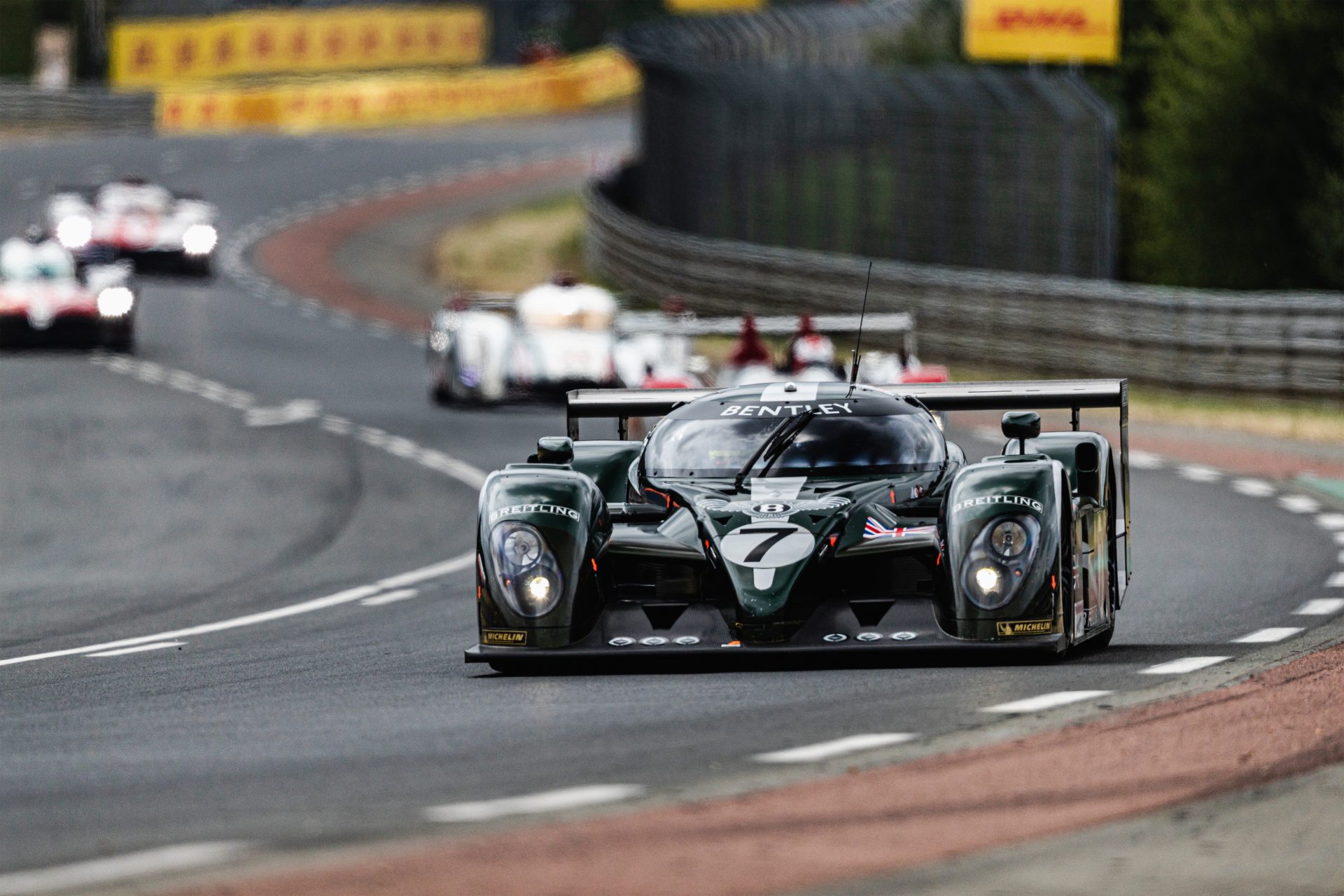 The iconic race car from the modern Bentley era, the 2003 Speed 8, revisited Le Mans this weekend to participate in the centenary festivities of the premier motorsport endurance event – the 24 Hours of Le Mans. This dynamic showcase of the highly popular race car set the stage for the comeback of a new Works Bentley to Le Mans, as a duo of Blower Continuation Series vehicles are set to compete at this year's Le Mans Classic.
The very car that triumphed in 2003 – Speed 8 chassis 004/5 – hit the track on Saturday afternoon as part of a centenary parade. Behind the wheel was Guy Smith, the very driver who claimed victory twenty years ago, marking the car's first return to the circuit since then. Reflecting on the emotional reunion with the car and the completion of two laps, Guy noted:
"This vehicle brought home Bentley's first Le Mans triumph since 1930, acting as a catalyst for my racing career, making it incredibly dear to me. Although I've piloted it a few times post-2003, this marks its maiden return to Le Mans and driving it here revived numerous memories and sentiments. The car feels just as it did when it clinched the win two decades ago. Bentley and Le Mans share a mutual identity, and it's been a remarkable weekend celebrating a century of history here."
The Le Mans Classic will witness a Works Bentley racing at Le Mans for the first time since the 2003 victory, with a pair of Blower Continuation Series cars participating in the Grid 1 race. Both the factory-owned Blower Car Zero and a customer car will be competing, with the former building on its recent debut test race at Donington Park in the UK. These entries represent not only the first official Bentley entries to a Le Mans race since 2003 but also the comeback of a Works-supported Blower on the track for the first time since 1930, the year that spawned the Bentley Blower legend.
As part of Bentley's Heritage Collection revival, Speed 8 004/5 has recently been fully restored to the condition it was in before its most iconic victory. The car is one of eight motorsport vehicles in the Heritage Collection, all of which are preserved in operational condition alongside the 37 road-legal members of the fleet, all due to be road-legal by the year's end.
The Speed 8 will remain on display at the Le Mans Museum throughout June, until the Le Mans Classic at the month's end where Bentley will have a substantial presence and exhibition in addition to the race programme. Following several other dynamic appearances this summer, the Speed 8 will return to Crewe to join its sister cars from 2001 and 2002, along with the rest of the Bentley Heritage Collection, in three newly built areas designed to incorporate the fleet into any visit to Bentley's campus.